Please select a year.
Holiday Cook & Care Announced by Young Chefs® Academy
Release Date: October 28, 2008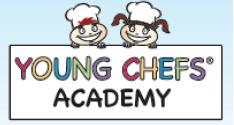 Young Chefs® Academy is opening their doors for a very special event on Saturday, December 6th called "Holiday Cook & Care". Holiday Cook & Care is a food drive which runs from November 1st through December 8th whereas all Young Chefs® Academy locations collect non-perishable food items to be delivered to community food banks in time for the holiday season.
Parenting and Young Chefs® Academy will be treating your family to an interactive bonding and learning experience - that's full of tasty treats! This FREE event includes hands-on culinary activities for kids and their parents, product giveaways, and much more!
Please click here to download a flyer for additional information pertaining to this special event.
For more information, please visit their website at www.YoungChefsAcademy.com.